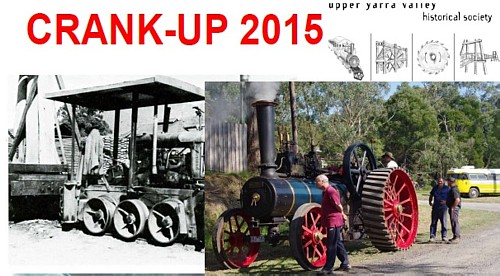 Upper Yarra Museum will hosted this fantastic event in Crank Up 33 – at Yarra Junction on March 28-29, 2015.
Unfortunately there will be no wood chop this year BUT there are HOT RODS! and organisers will still be putting on a HUGE crank up with the museum, old steam machinery, horses, plenty of exhibits and stalls – so come along!
Volunteers from the Upper Yarra Valley Historical Society have put together a diverse and exciting event to cater for different age groups and interests. Many of the activities pay tribute to Upper Yarra history but particularly to the timber industry.
Items may be purchased from various stalls ranging from Red Cross crafts and blacksmith–forged products to books (especially those with local authors or content) and gems and crystals. Information booths (VicForest, Habitat Tree) will also be on site to assist visitors.
Children have not been forgotten with the installation of an outside children's play area and a new children's room on the platform. Plus pony and donkey rides and a car jumping castle with ice-cream, fairy floss and sweets to lick and enjoy.
Last but not least, the centrepiece of the festival; the restored, reorganised and revamped Upper Yarra Museum.
Crank-up: March 28-29, 2015. Ph 0427 707 730
Entry: $10 adults; $4 children under 15.
All income is used to further improve and preserve this all volunteer-managed community asset.